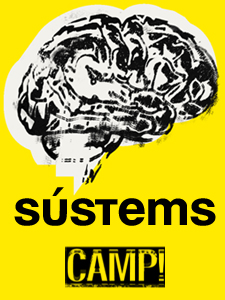 Opening:: Tuesday 12.6.2012
Duration: 12.6 – 15.6.2012
systems
Independent artists and groups in conversation
SYSTEMS is an open call to independent art spaces, art groups and collectives active in Athens, that perceive the city as an open field of action, operate in unconventional ways and succeed in creating unexpected modes of symbiosis.
SYSTEMS aims is to create a platform for discussion, which will record the independent artistic movement, as well as its dynamic and its ability to intervene in the city's events and actions.
Each space, group and artistic collective has its own particular modus operandi. What is deemed important in a gathering like SYSTEMS is the presentation of the methodologies employed by each and the discussion of their respective viability at a time of crisis as well as the creation of networks of communication between different countries and the exchange of know-how and experience among participants. The accumulative experience that is the result of the operation of spaces, groups and artistic collectives in the recent past as well as the present activity of such entities impels the creation of new groups and facilitates the emergence of a clear picture of not only what has already taken place in relation to such artistic formations but also of what is happening now in Athens.
As part of the talks and discussions of SYSTEMS, each speaker will have up to 15 minutes for their presentation and time will be provided for questions from the audience. It is an open entrance event and starting time is set at 17:00.
Curated by:
Giorgos Georgakopoulos
Dimitris Georgakopoulos
Fotini Kapiri
Coordination:
Kika Kyriakakou
Participants:
PROVO PRINCIPLES, RECONSTRUCTION COMMUNITY, XYZ, OMADA FILOPAPPOU, KINISI MAVILI, ΑSTIKO KENO, LO AND BEHOLD, SALON DE VORTEX, KANGAROO COURT, CHEAPART, QW3RTY, FROWN TAILS, DAILY LAZY PROJECTS, ERASERS, POST, LUDENS LABS, 3137, MΕΤΑPOLIS, E-MOBILE, KUNSTHALLE ATHENA, SIX D.O.G.S, OPEN SHOW STUDIO, ELCULTURE, EDW, INDOORS PLUS, ORIZONTAS GEGONOTWN, ΑΒΟUT, SYNTHESIS, ATHENS SCHOOL OF FINE ARTS – INTERNATIONAL RELATIONS OFFICE, MOVING SILENCE, DESIGN WALK, REMAP, IMAGINE THE CITY, STIGMA LAB, DADADA ACADEMY, BUSY BUILDING, BEETROOT, ODC ENSEMBLE, BACK TO ATHENS, G DESIGN STUDIO, EXTRA-CONGULATE, A GLIMPSE OF, CAMP!, ΝΟΜΑDIC ARCHITECTURE, ΥPO KATASKEVI, MAPPING THE COMMONS ATHENS, BETON 7.
For any additional information please contact CAMP! daily between 14.00-21.00 at 210 3247679